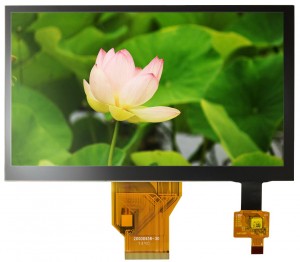 Aliso Viejo, California – November 22, 2016 – AZ Displays Inc., a leading manufacturer and distributor of LCD display products and solutions launches their new highbright WVGA 7″ TFT display, with LVDS or RGB interface and tape attached or optically bonded Resistive and PCAP touch screens as standard options.
This new highbright version allows the user to view what is being displayed even in direct sunlight. This display features a contrast ratio of 500:1, an operating temp range of -20-+70°C and a viewing cone of +/-70 in the horizontal and -70/50 in the vertical direction.
"This increased brightness rating will allow our customers to improve their displays' readability on all their outdoor products", said Trevor Gates, General Manager of AZ Displays. More at www.azdisplays.com.
About AZ Displays
AZ Displays manufactures and markets a broad line of TFT panels and LCD modules and has established an industry leading reputation as a provider of top quality display solutions in a wide range of industry applications. This division of ZETTLER Group North America combines sophisticated design and engineering capabilities – in standard and customized versions – with intelligent product diversification, reliable supply chain capabilities, and competitive pricing. Our Digital TFT Panels span across a broad selection of diagonal sizes and resolutions. This wide spectrum of TFT Modules is made available for numerous applications such as Avionics, Medical, Navigation Systems, Industrial Controls, Irrigation Controls, Testing/Measurement devices, Smart Metering and many more – both in standard formats and with optional custom functionality. The prolific range of TFT products and applications for our demanding global customer base require rigorous quality controls, and optimal manufacturing process and testing conditions.
Contact AZ Displays
AZ Displays, Inc.
75 Columbia
Aliso Viejo, CA 92656
(949)360-5830