Application Spotlight October 2016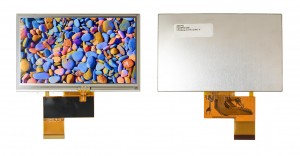 TFT displays are very commonly used as visual interfaces in security related applications such as burglar/fire alarm systems.
AZ Displays has recently won another customer design for this growing application segment.
The customer is a leading manufacturer of electronic burglar, fire and other security access products.
The AZ Displays product used on this security panel is the 5-inch resistive touch TFT ATM0500D12-T.
The design required a custom engineered touch panel with a special ITO anti-glare treatment.
This solution was seamlessly and quickly provided through cooperation between AZ Displays' North American application engineering and China factory based engineering departments.
Despite aggressive direct Asia competition, AZ Displays was able to win this considerably sized project through a distributor with a combination of competitive pricing, fast and reliable local customer support, and superior product quality.
For similar applications or to discuss the wide variety of application opportunities for AZ Displays' TFT panels and LCD modules, please contact us.
About AZ Displays, Inc.
AZ Displays Inc., a division of ZETTLER Group, manufactures and markets a broad line of digital TFT panels and LCD modules, and is an industry leading provider of top quality display solutions in a wide range of industry applications. AZ Displays operates wholly owned engineering and manufacturing operations in Xiamen, China and has sales, application engineering and distribution infrastructures in North America.