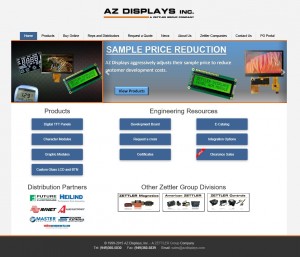 AZ Displays Inc., a leading manufacturer and distributor of LCD display products and solutions unveils a complete re-design of its website; introducing many new user friendly features and functions.
ALISO VIEJO, CALIFORNIA JULY 13, 2016
Website functionality and user-friendly features are essential to the digital B-2-B marketing strategies of companies in the electronic components industry. AZ Displays, Inc., the North American sales and distribution division of Zettler Group's worldwide LCD displays business, embraces this philosophy by introducing a brand-new website.
The company's new web portal features an easy-to-navigate homepage with links to:
Dozens of product pages, conveniently sorting AZ Display's product lines in digital TFT panels, graphic and character LCD modules by physical size, resolution, contrast, viewing angles, dot sizes, operating temperatures and other parameters, each featuring convenient search filters, data sheet PDFs, available inventory, and sample pricing.
Several engineering resources such as an e-catalog, linking to direct order functionality for current and prospective customers.
Development board tools with comprehensive manual and tech support.
Easy to use request-for-quote and request-a-cross functionality and many parametric search options.
Convenient links to AZ Display's top distribution partners' sites.
"We have listened to our customers and their needs to engage with us in a variety of daily transactions and searches for the right AZ Display products, in a fast, easy and convenient fashion", said Dave West, President of AZ Displays, Inc. With its rich content, this new website portal now effectively provides fast and easy access to our customer's search queries.
The AZ Displays website can be viewed at: http://www.azdisplays.com