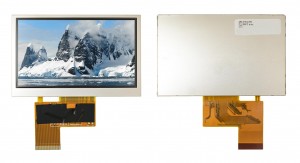 Aliso Viejo, California – August 9, 2016 – AZ Displays Inc., a leading manufacturer and distributor of LCD display products and solutions launches their new highbright WQVGA 4.3" TFT display, with tape attached or optically bonded Resistive and PCAP touch screens as standard options.
This new high bright version helps counteract the effects of the sun to allow the user to view what is being displayed even in direct sunlight. This display features a contrast ratio of 500:1, an operating temp range of -20-+70°C and a viewing cone of +/-70 in the horizontal and -70/50 in the vertical direction.
"Most 4.3" high bright options on the market only offer 800 to 1,000 nits before adding touch screens which lower it another 100 to 150 nits. In response to customer requests to offer a brighter model, we've decided to introduce the new ATM0430D12M series which offers an impressive 1,300 nits. This increased rating will allow our customers to improve their displays' readability on all their outdoor products", said Dave West, president of AZ Displays.
For more information visit www.azdisplays.com, or contact AZ Displays Inc. at (949) 360-5830, e-mail: sales@azdisplays.com.
About AZ Displays, Inc.
AZ Displays Inc., a division of ZETTLER Group, manufactures and markets a broad line of digital TFT panels and LCD modules, and is an industry leading provider of top quality display solutions in a wide range of industry applications. AZ Displays operates wholly owned engineering and manufacturing operations in Xiamen, China and has sales, application engineering and distribution infrastructures in North America.